The City of Lost Children
Aug 07, 2023 7:00PM
Location
Center for Performing Arts, Moe Auditorium & Film Center - 10150 Bonita Beach Road
Cost $8.00 General Admission
Categories Film Center, Performance
Topics Films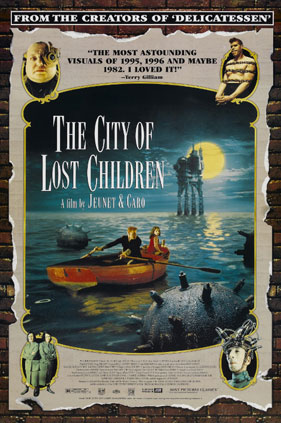 The City of Lost Children (French: La Cité des Enfants Perdus) is a dark and surreal 1995 French film directed by Marc Caro (Dante 01, Delicatessen) and Jean-Pierre Jeunet (Delicatessen, Amelie). The film takes place in a twisted and dystopian world, where an evil scientist named Krank (played by Daniel Emilfork) kidnaps children in order to steal their dreams, as he is unable to dream himself.
The plot follows a circus strongman named One (played by Ron Perlman) who teams up with a young girl named Miette (played by Judith Vittet) to rescue his adopted little brother, who has been kidnapped by Krank. Along the way, they encounter a variety of bizarre characters, including a brain in a tank, a pair of conjoined twins, and a talking flea.
The City of Lost Children is known for its imaginative and dreamlike visuals, which create a unique and eerie atmosphere. The film also features stunning practical effects and set design, which were praised for their attention to detail.
The film's significance lies in its influence on the genre of "steampunk," a style of science fiction that incorporates Victorian-era aesthetics and technology. The City of Lost Children is often cited as a major inspiration for this genre, as it features a blend of retro-futuristic technology and a fantastical world that resembles a distorted version of the Industrial Revolution era.
Overall, The City of Lost Children is a visually stunning and thought-provoking film that has had a lasting impact on the worlds of art and cinema.
This film is rated R.