Ed Wood
Jun 26, 2023 7:00PM
Location
Center for Performing Arts, Moe Auditorium & Film Center - 10150 Bonita Beach Road
Cost $8.00 General Admission
Categories Film Center
Topics Films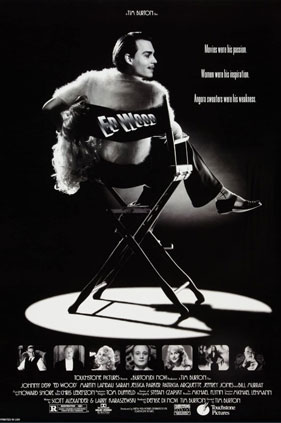 Ed Wood is a 1994 American biographical comedy-drama film directed by Tim Burton (Wednesday, Beetlejuice), starring Johnny Depp in the titular role. The film is a homage to Ed Wood, a filmmaker who became known for his low-budget, campy movies in the 1950s and 1960s, such as Plan 9 from Outer Space and Glen or Glenda.
The movie follows Wood's career as a filmmaker, his struggles to finance his projects, his friendship with aging horror star Bela Lugosi (played by Martin Landau), and his personal life, including his relationships with his girlfriend Dolores Fuller (Sarah Jessica Parker) and his producer Bunny Breckinridge (Bill Murray).
While Wood's films were largely unsuccessful during his lifetime, they have since gained a cult following for their kitschy charm and B-movie aesthetic. Ed Wood has also become a cult classic, praised for its stylized direction, quirky characters, and Johnny Depp's performance as the enthusiastic but delusional director.
The film has been noted for its portrayal of the film industry during the 1950s and 1960s, as well as for its exploration of themes such as artistic passion, friendship, and acceptance. It also delves into the personal struggles of the characters, particularly Bela Lugosi's battle with drug addiction and Wood's crossdressing.
Ed Wood is a celebration of the creativity and perseverance of an unconventional filmmaker, and it has come to be regarded as a seminal work in Tim Burton's filmography.
Each admission to Ed Wood receives one free drink ticket. Raffle tickets available for purchase for a chance to win numerous film-related items.